MARGARET
"She immersed herself in doll making, and became a world renowned doll artist whose creations won top honors and appeared on magazine covers…"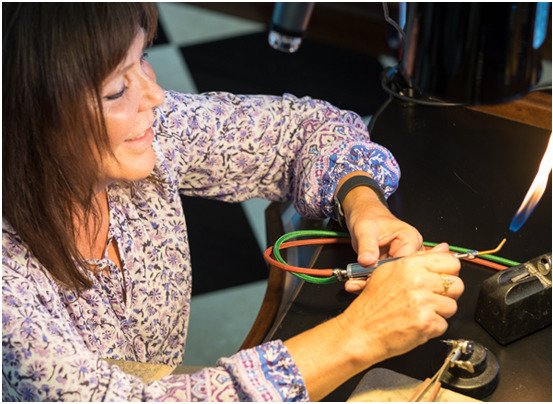 Margaret is a 2nd generation Californian. She always loved art and spent time with her mother painting faces on cloth dolls, and with her grandmother making chains for charity. In high school she developed a strong interest in ceramics and thought she would like to major in fine arts. Her dreams were put on hold as she followed her science background and graduated from the University of Southern California with a Doctor of Pharmacy degree in 1988.
Margaret met her husband and they started a family. In 1991 they moved to the east coast and created a business together based on a need she recognized while working in the industry. With the business running strong, Margaret could not deny her creative energy. She immersed herself in doll making, and became a world renowned doll artist whose creations won top honors and appeared on magazine covers.
Margaret is currently focused on jewelry and glass art, and has studied with some of the top artisans in the world, including: Blaine Lewis for stone setting, Linda Darty, Merry-Lee Rae, and Ricky Frank for enamels, and Kate Wolf for wax carving. In her quest for excellence and her passion to learn, she is capable of working every aspect of a finished piece from design, wax carving, casting, fabrication, simple stone setting and enameling.
Margaret is fulfilling her dream in creating one of a kind art pieces in her studio.
MARGARET HAS ALWAYS ENJOYED THE CREATIVE PROCESS.
She has worked with her husband Dave since 1988. She and Dave enjoyed manufacturing and producing products of any kind. They started their first business together in 1990 and developed products for the medical industry.
After retirement, Dave managed and helped Margaret follow her dreams in tennis going pro at the age of 53. She held two distinctions that year. She was the oldest rookie in the history of the sport and the oldest ranked player in the world at the time. After a year of play she was ranked among the top 700 players in the world in doubles. Her passion for tennis continues on the court and is a theme for her art.
Today, Margaret designs and produces original works in jewelry, art glass and porcelain. We hope that you will enjoy her art as much as she does creating them.